This year I want to try to ride all winter, something I've never tried to do before. I know once the roads get covered in sand and ice I won't be riding on 23 mm tires. I love my Cannondale with drop bars but like most carbon fiber road bikes built today it's limited to skinny tires. Enter the Schwinn Mesa my nephews old mountain bike that has been languishing in his parents garage for several years.
2000 Schwinn Mesa after a bit of work
My nephew and I picked this bike up at a bike shop when he was around 15. This was just before Schwinn was bought by another company and consequently began offering bikes in department stores. He bought it with his own money and some birthday money I was kicking in towards the purchase. We went to the bike shop because the bike he had from Walmart hadn't even survived a year. The Mesa was an entry level Mountain bike but it was what he could afford and a step up from the Walmart bike.
I thought it would make a perfect winter bike, with its wide tires and ample clearance for fenders. Also I wouldn't feel like I should wipe it down after riding through puddles of slush since it's aluminum and previously ridden in the woods by a teenage boy. Aka it won't rust and it's not mint or expensive.
Some of the bits I replaced
I should have taken pictures before I stripped the bike down but at least I can show you some of the parts I replaced. I changed the tires to the more road friendly 1.95 Kenda Kross. The handle bar was all steel and too straight for my tastes, so I replaced it with the lighter aluminum Civia Loring handle bar to give me a more upright position. The original stem was also all steel and too long. Instead I used a shorter aluminum stem by Dimension. There wasn't really anything wrong with the grips but I went with a more ergo grip from Serfas.
The original
Suntour
triple
crankset's middle chainring was showing a bit of wear but the whole crankset had to be replaced because the chainrings were riveted together. I installed a Shimano Acera triple which was pretty similar to the original accept the chainrings were bolted not riveted. For some unknown reason Schwinn had used an E type front derailleur which is really unnecessary in a hard tail mountain bike. I opted for the bolt on Shimano Alivio FD. The worn out bottom bracket is not pictured but it was also replaced, and of course I replaced all the cables and housing.
(Note for those that are unfamiliar with "E type" front derailleurs, they attach to the bottom bracket and general only need to used on bikes with rear suspension.)
New front derailleur, crankset, and Shimano a530 pedals
I'm trying out the Shimano a530 in order to have the option of clipping in or not. The plastic chainring gaurd allows me to ride in regular street clothes without a pant leg strap. My goal is to be able to ride in cycling specific gear or civvies which is why ended up with a rather plush seat.
I found the Schwinn seat really uncomfortable so I thought I really lucked out when I found a Specialized Reva which had come off of a brand new bike, marked down to $25. The Reva is very similar to the Specialized Lyndia I have on my Cannondale but, unfortunately I didn't take into account how upright my position on the bike was going to be and ultimately I needed more padding under my seat bones. I'm using a Serfas dual density saddle, DDL-CT Women's with a deep groove or cut out, so far
it's
quite comfy
.
Although the bike only has a 7 speed shifter it also has an 8 speed Shimano Acera rear derailleur which I was able to use. I happen to have an 11-30 cassette laying around so I used it with the 13 tooth sprocket removed, other wise it would not fit the hub. Ideally it would be nice to have the 13, jumping from 15 to 11 isn't ideal but with 3 chainrings the perfect gear can be found.
Finally I installed the rack and fenders. I purchased Sunlite chromoplastic fenders because they were cheap, and now I know why. Its not that the fenders themselves are any different from other chromoplastic fenders but the fender stays and limited hardware are another story. The stays are one piece of stainless steel that wraps from one side to the other with the ends looped so they can be bolted to the eyelets in the drop outs. The problem with this system is the lack of easy adjustment to fit to each bike. In the front I was able to rebend the stainless steal to the right length but in the rear they were so long that I had to cut and bend them. Getting stainless steel to bend exactly the way you want without special tools is quite difficult because it is so hard. I ended making them just a bit too short. Fortunately I was able to find several fender stays in a box of spare fender bits at Niantic Bay Bicycle.
A little creativity was called for with this fender install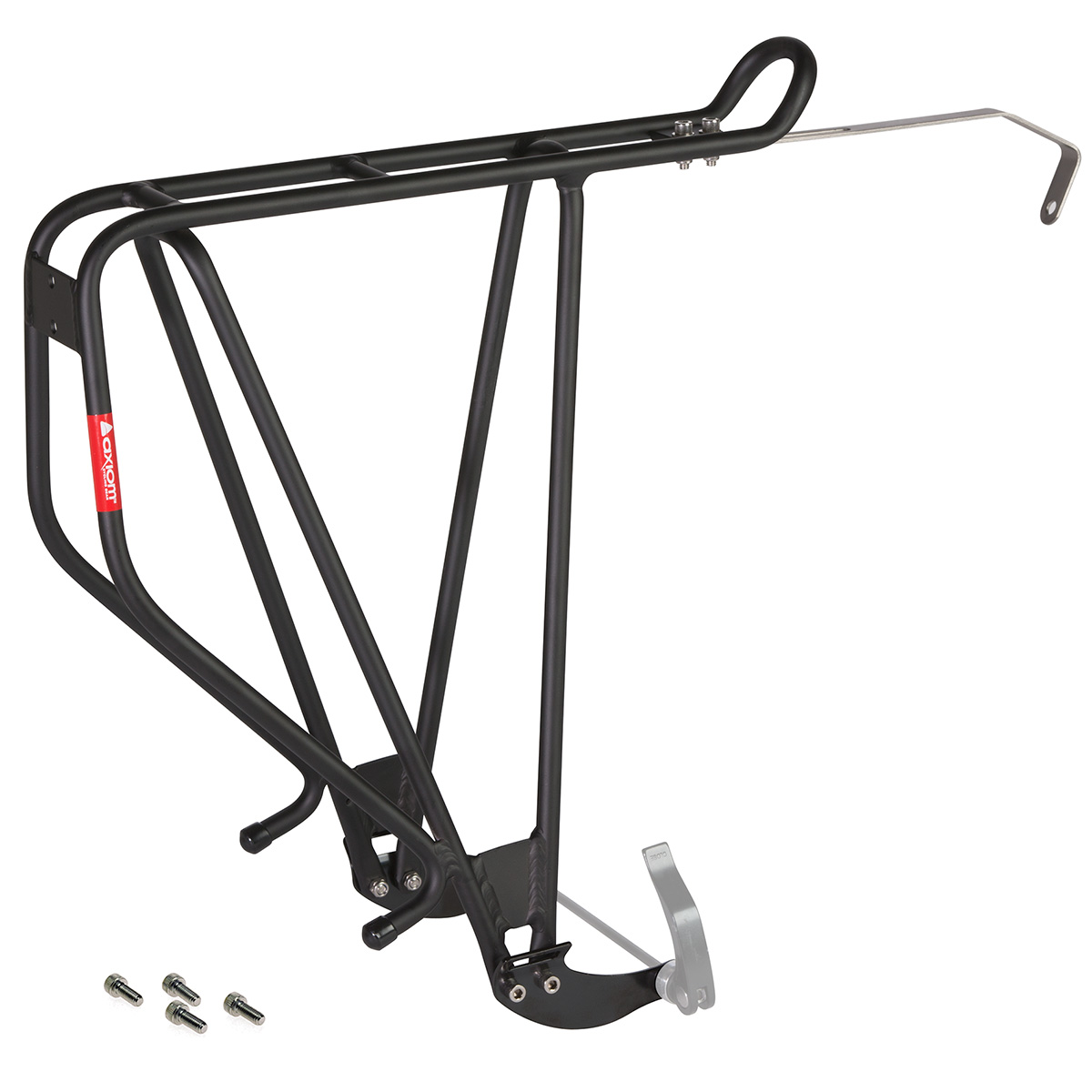 Axiom Streamliner Road DLX
I knew going into this build that I would have to come up with a way to mount the fender stays to a suspension fork without eyelets. I decided to use the quick release skewer and an "adapter" like the one that came with the rack on my Cannondale. I had to make the adapter and ended up using a toilet flange repair kit. All I had to do was cut off the ends of the metal flange and shape them with a grinder. Using the quick release skewer to hold the rack in place is kind of a pain when you need to remove the wheel but its doable. The rack pictured on the right is similar to the one
I have on my Cannodale Synapse.
I used to think this bike was too big for me and I rode it with the seat practically sitting on the top tube. The seat tube is 21 inches long and the standover height is about 31 inches. As far as standover clearance goes I'm right at the limit. Even so I have raised the saddle height several times. I think I have the fit dialed in now and I find it to be comfortable, fun and stable. In the future I may want to make some more upgrades to further winterize:
*New suspension fork with disc tabs.
*New disc capable front hub
*Disc brake for the front
All this requires money that I shouldn't spend at the moment, but in the mean time I can research and dream.